Post by Galaxie500 on Nov 15, 2015 12:02:05 GMT -8
Before I continue, I'd like to apologize for the barrage of (tedious and mostly irrelevant) posts. With that having been said, there's one last thing that I'd like to touch upon - that being the question of Kane's genealogy, or, more specifically, that of his mother. There has recently been some minor contention, here and elsewhere, regarding the minutiae of Kane's family history.
Near as I can determine, his mother's family first appears in the 1920 Brooklyn census listed under the somewhat ubiquitous surname of Benjamin. Strangely, while the census record lists Sarah's mother (Frieda / Freeda) as married, the document omits any mention of her father. Along with Sarah and her mother, the document also includes the names of four of her siblings - Michael, Moses, Anna, and Nathan. While Frieda's (as well as her husband's) nationality is given as Russian, Sarah and her siblings are recorded as having been born in New York. It should be noted that "Benjamin" was commonly used as an anglicisation by Jewish immigrants of the period and thus may have been adopted at some point prior to Sarah's birth. The family shows up again in 1940, this time under the name "Brodsky." Her father's name is now listed as "Hyman Brodsky" and her mother as "Frieda Brodsky" - it's plausible, if not altogether likely, that this was the family's original surname. Likewise, her brother, Nathan (who was now working in real estate,) and sister, Anna (employed as a saleswoman at a local department store; soon to be Mrs. Ann Schwartz,) are also listed as "Brodsky." Sarah and Larry's surname is at this time recorded as "Klein." Their residence in Brooklyn (4600 14th Ave.) was an apartment located in a lower-class Jewish neighborhood inhabited primarily by Eastern European immigrants. This is the same address that Kane put down on his 1941 SS application. Sarah's parents were (it should go without saying) non-native English speakers, their primary tongue being Yiddish. Because he grew up in a predominantly Eastern European neighborhood, brought up by non-English speaking family members (his father's "default" language was Hungarian,) it's highly possible that Kane was multilingual.
Morris Klein and Sarah Benjamin married in December of 1922 and divorced when Kane was thirteen years old. Sarah was born ca. 1906 and Morris ca. 1900.
1920 census: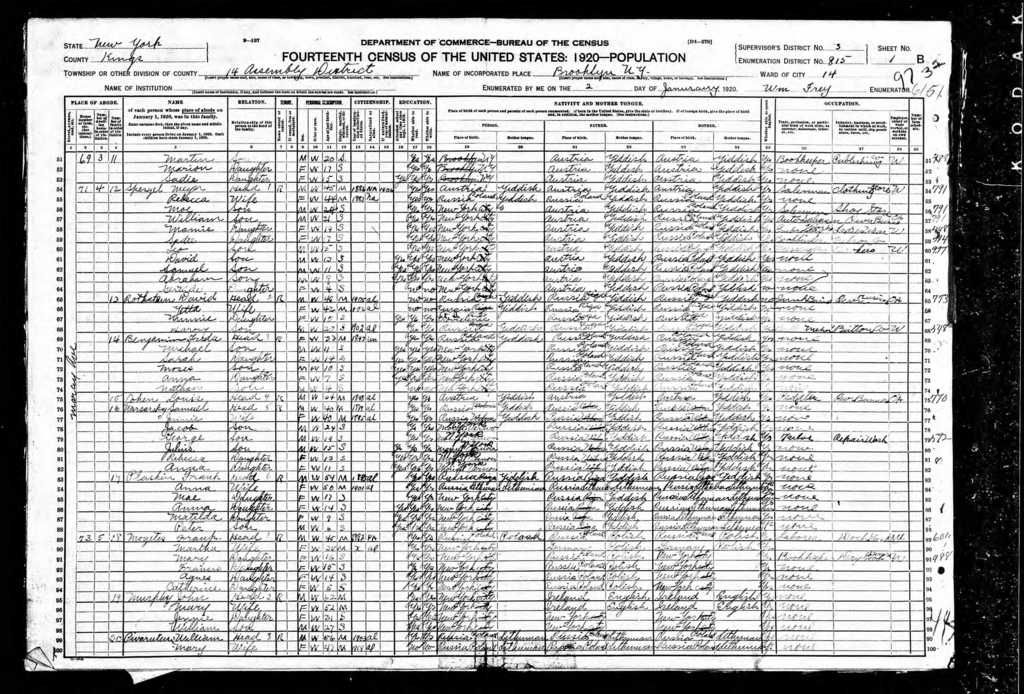 1930 census: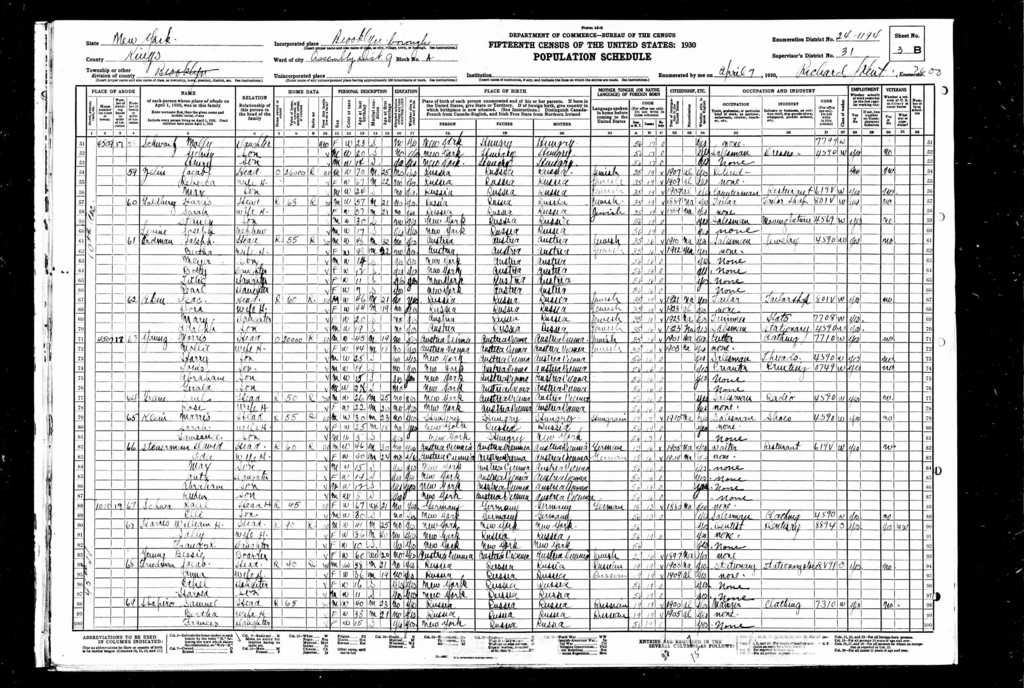 1940 census: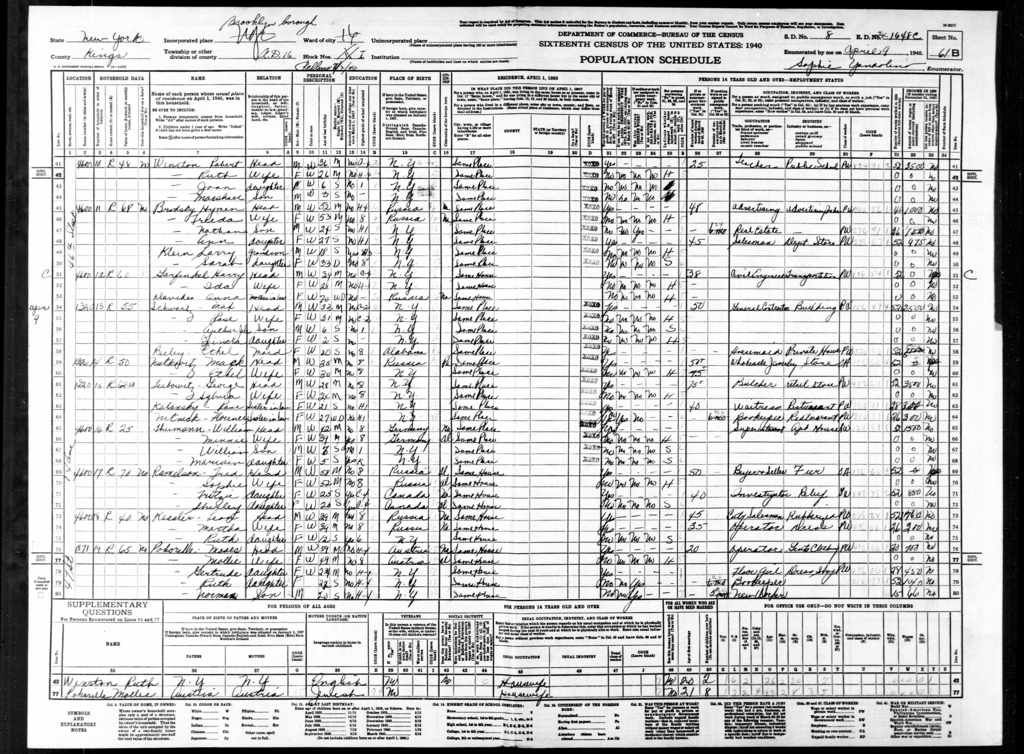 The Brooklyn Daily Eagle. December 22, 1922: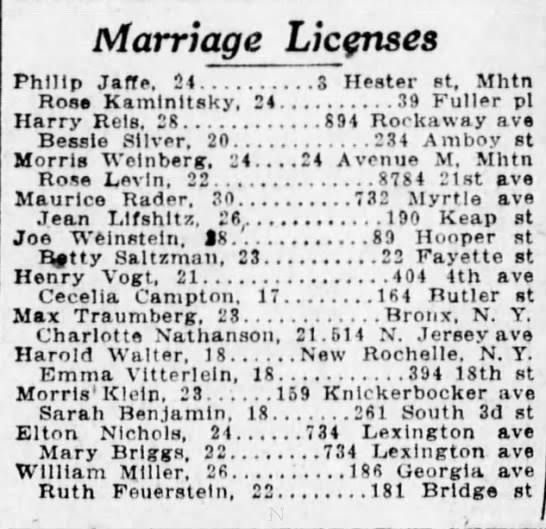 The Brooklyn Daily Eagle. May 29, 1941: